Running a business is a stressful, busy job. As a result, it is understandable that when weighing your options on what you are going to focus your limited amount of available attention on when it comes to marketing — you undoubtedly at one point have to have the conversation with your team (or yourself) as to whether a particular form of marketing is worth investigating and committing to; given the vast number of available channels available to businesses in today's digital landscape.
When you are doing this examination, it is critical to have Youtube as part of your overall digital marketing strategy.
Youtube ranks as the second most popular website in the world.
Click To Tweet
With over 400 hours of video uploaded to their platform every single minute, Youtube ranks as the second most popular website in the world. Not only that, the vast majority of the people that go to YouTube do so with the intent of learning how to do something.
Remember: Youtube is a Search Engine
So YouTube, in reality, is a search engine. It's the second most popular search engine in the world, to be exact. Second only to that of Google itself — so it's important to optimize accordingly.
With numbers like this, it shouldn't be too hard to impress upon you the enormous potential benefits your business can realize by having a solid presence and marketing strategy on this platform.
In addition to the thirst for knowledge that people are displaying on the YouTube platform, there has been a growing trend change in the types of marketing content that consumers are engaging with.
Video and voice are the most in-demand forms of content being consumed by consumers.
So putting videos on your YouTube channel and even repurposing it to your website, landing pages, and email templates are something that is all but guaranteed to generate more engagement to help grow your business.
So if we can all agree that video, and YouTube, in particular, is a great marketing choice to help grow your business, how do you go about it in a way that produces high-quality content and has a consistent strategy that is on brand and aligns with your other marketing efforts?
The good news is it's not as hard as you think. Today we're going to share with you some key tips and strategies to consider when getting your YouTube marketing strategy prepared for launch.
How To Develop Your YouTube Marketing Strategy
Just as you would with any other marketing campaign you are trying to get off the ground, you need to start with a scalable video marketing strategy.
You'll begin planning this strategy by taking into account your client personas, determining what you want the outcome of the campaign to be (your goals), and determining what your KPI's (key performance indicators) will be to asses the outcome of the campaign.
For instance, maybe the target persona you are targeting with these campaigns are Millennials that want to buy a home but don't think they have enough money saved for a down payment to purchase one.
Do you have enough content ideas to take them through the journey through the home buying process?
Next, determine what your goals are going to be. For instance, is the purpose of this strategy to:
Lastly, you also need to be able to measure your progress accurately. This is where you are going to establish what your KPIs are to help you measure your results and ensure that your campaigns are optimized and performing as well as possible.
Here's a more in-depth Youtube video (by Nick Nimmin) to help increase engagement and get more subscribers on Youtube.
Consistency Is Everything
When it comes to running a successful marketing campaign on YouTube, you have to remember that consistency is everything. To keep growing your channel and engaging potential customers, the more content you distribute, regularly, the higher the chances you'll broaden your audience.
Establish in your marketing gameplan a strict publishing schedule and stick to it. Besides frequency, when you publish your videos is also very important.
For instance, most viewers watch videos on YouTube in the evenings and on the weekends.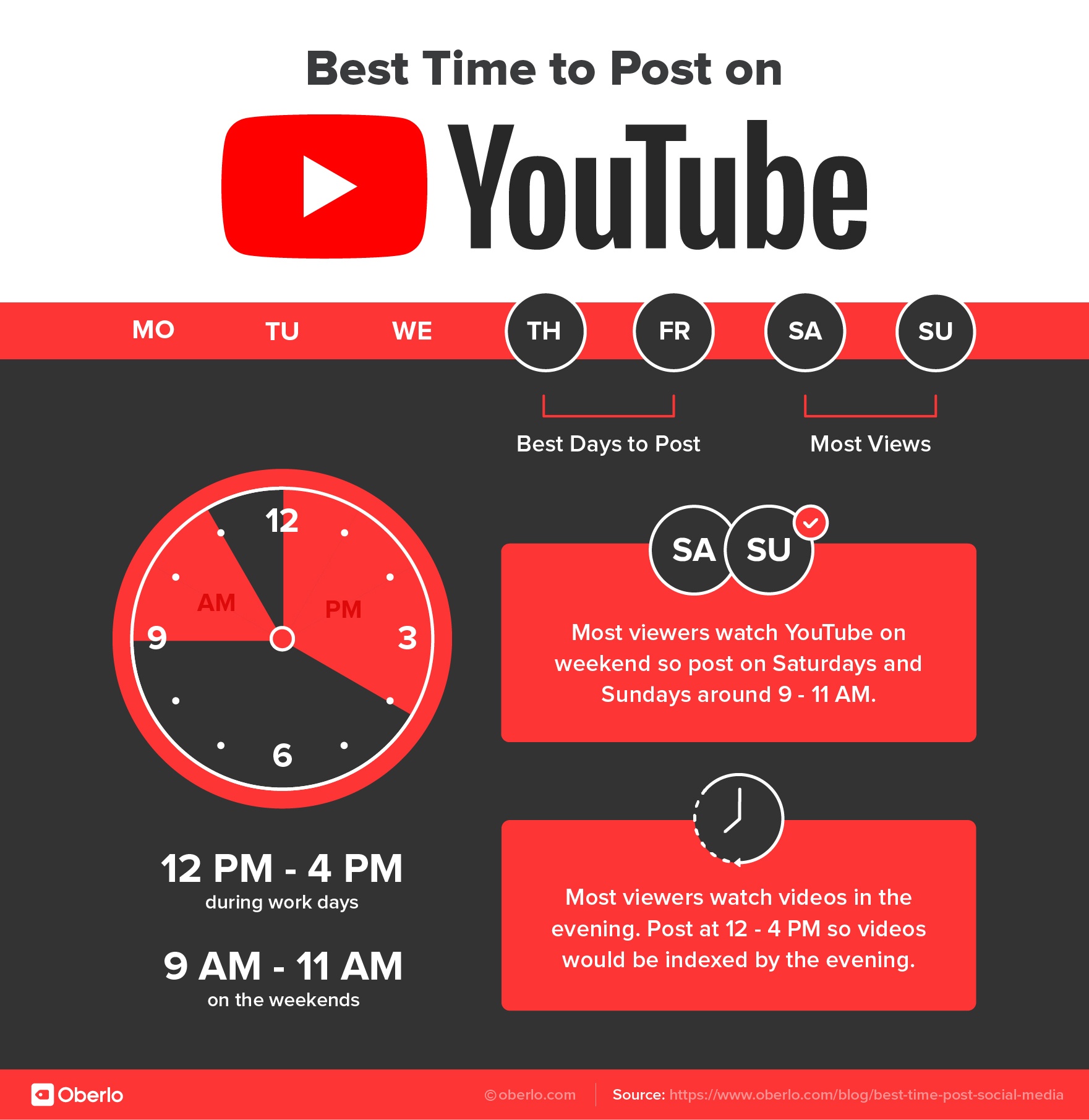 So that would suggest that the best times to post content would be mid-day during the week and first thing in the mornings on the weekends.
This gives the network time to index your videos so they can be found by your potential customers when they log onto YouTube and start searching for videos.
The Different Types Of Videos That Serve Different Purposes
Now that you know what your goals are, how you are going to measure success and when you want to publish, you need to figure out what types of videos you are going to create for your campaign.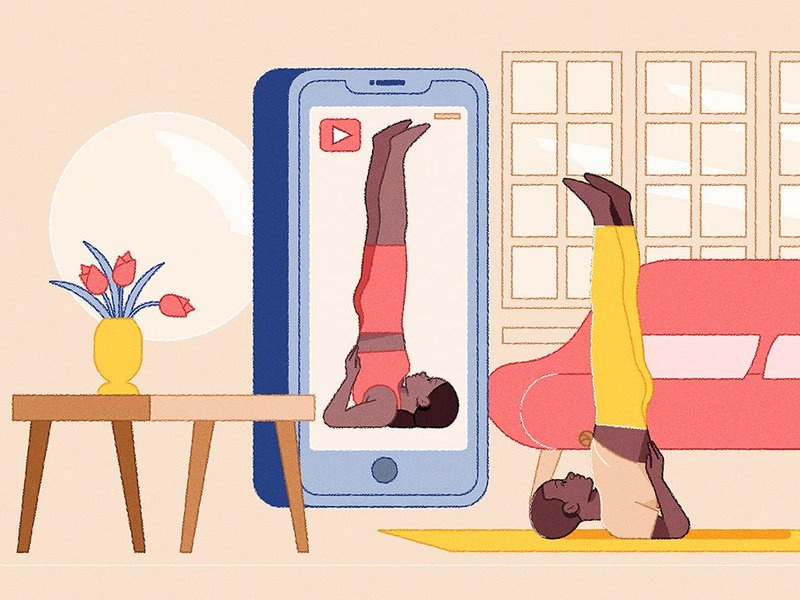 It's important to keep things varied to keep your audience entertained and coming back for more. Plus, it's worth experimenting early with different types of videos so you can understand which ones work best and which ones don't.
Here are a few ideas to get you started:
How-to videos: How-to videos tend to perform very well because they provide a lot of value to the viewer. For example, if you were selling CRM software, you could create how-to videos showing your viewers how to get started with cleaning up a messy database and getting it imported into a CRM.
PRO TIP: One of the best ways to pick "how-to" video topics is by looking up old blog posts you've written for material for these videos. Or, you can develop a plan for a recurring video series. For instance, maybe a video series entitled "Tech Tuesday" that features one or two new tech tools you love and a demonstration on how to use them.
Product videos: Video is a great way to showcase your own products or services. These product videos could walk viewers on how to use certain features, highlighting new product updates, or announce new offerings for your business.
Case studies: Another way you can promote your business and your products or services is to create video case studies of your clients. These case studies don't need to deal exclusively with your product. For instance, Evernote is famously good at focusing on client origin stories, recent achievements, and how they integrate their product into their day to day business.
Interviews: Interviewing well-known experts and influencers from your niche is another good way to attract new viewers. These experts will have their own following, so if they're promoting the video as well, they can help drive traffic to your YouTube channel.
Managing Your YouTube Channel
Once you have created some video content to populate your channel, it's time to take a look at the actual management of the channel.
One of the most important things you need to do to ensure that your channel is operating within the context the YouTube algorithm was set up is to make sure to engage with people. The more engagement your channel gets, the better your campaigns will run.
Make sure you take the time to respond to anyone that comments on any of your videos. There are tons of tools online you can use to help you manage comments. For instance, VidIQ is a platform that lets you oversee and moderate comments that are made on your channel's videos.
Here is a list of best practices when it comes to handling engagement on YouTube:
Use monitoring to find other mentions of your brand and identify engagement opportunities
Ask questions of your viewers in your videos, as well as in your video descriptions to encourage them to leave a comment
Use the "Community" tab (located in your channel's main page) to post images, GIFs, and video previews, as well as to poll your subscribers
Optimize Your Videos Using SEO Best Practices
As we mentioned at the beginning of this article, YouTube is the second most popular search engine in the world.
Based on that fact alone, if you take the time to optimize your videos and regularly produce quality content, you can dramatically increase your chances of reaching a broad and targeted audience.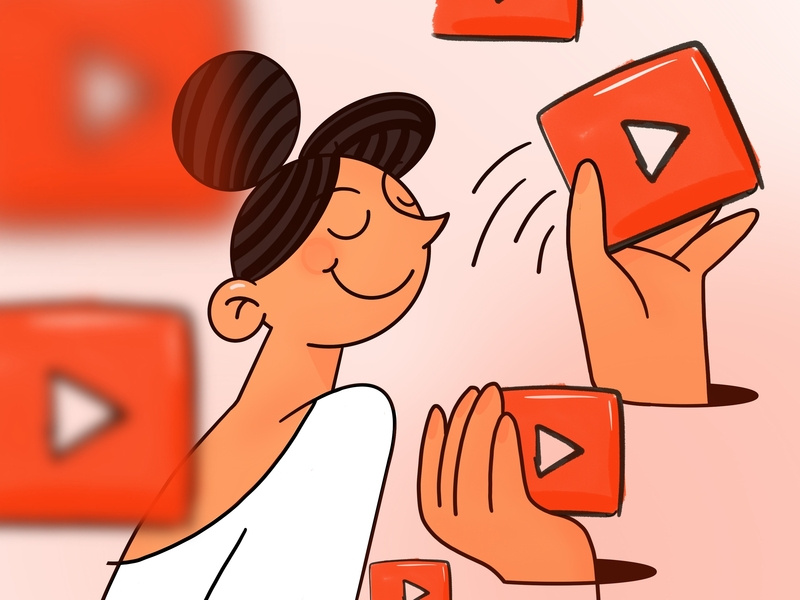 When setting out to optimize your videos, there are many factors that come into play. Here are some of the most important factors to take into consideration when reviewing your videos, making sure they are optimized to their fullest potential:
Optimize your channel's keywords: Use the right tags to make sure that YouTube knows what your channel is about.
Always make sure to include video headlines and descriptions: Research keywords to find out what your audience is looking for and use these keywords in your video headlines and your descriptions.
Use video tags: In addition to keywords, you need to add tags to your videos – research tags to find out which ones perform best.
Include a video transcript with your video: Including a video transcript is a great way to make your video more scrapable by search bots. It's also suitable for viewers: if they need to check the spelling of a word or can't increase the volume to hear the video, they can still access the content.
Include an interesting thumbnail Image: The thumbnail image will be visible whenever your video is indexed, so this should be compelling and relevant.
Optimizing your video content is important for establishing your YouTube marketing strategy, and it can also help with content while you're getting started.
Keyword research is an excellent tool for finding video ideas. Before you create any new videos, take the time to research keywords, and create videos based on the keywords you want to target.
How Are You Using Youtube?
Video marketing is becoming an extremely valuable tool for both individuals and businesses. Are you using any unique techniques to obtain more viewers and readers? If so, let us know in the comments below.