Small businesses are circumspect with their budgets and often avoid spending on Instagram advertising.
After all, Instagram, the second largest social media network, can be used to promote content for free. Why should small businesses, who have limited budgets at their disposal, spend on advertising?
But that reasoning no longer works on social media, and definitely not on Instagram. Over the last few years, Instagram's algorithms have changed significantly.
If you want your content to be seen by Instagram's users, your followers need to interact with your posts more often. This is because Instagram wants to show users the content that they most care about—something that is determined by an algorithm.
That is one of the prime causes for why small businesses struggle to get consistent engagement with their organic Instagram posts.
Additionally, Instagram still doesn't allow users to include links in their posts—you can include links in your bio, on Instagram Stories (if you have over 10,000 followers), IGTV, and on shoppable posts. And, of course, on Instagram ads.
These are a few reasons why small businesses need to incorporate Instagram advertising into their marketing plans.
Having determined the why of Instagram advertising, you are probably wondering how you can create an advertising campaign.
Here is a guide for creating an Instagram advertising campaign. For this campaign, we will be focusing on video ads, but it can be applied across the board for other kinds of visuals.
Choose Your Instagram Advertising Objective
You can use the Facebook Ad Manager to create video ads for Instagram, but you can also create ads on Instagram itself.
Whatever method you choose, your first port of call will be deciding on your campaign objective, which could be any of the following:
App Installs – encourage users to visit a site where they can download your app
Brand Awareness – boost knowledge about your brand, products, and service
Catalog Sales – showcases your products and boost sales
Conversions – includes calls-to-action that can be completed within the ad or on your website
Engagement – increase opportunities for people to like, comment, and repost your content
Lead Generation – collects information from users interested in your brand
Messages – encourages people to connect with your brand
Reach – promotes your ad to larger numbers of users
Store Traffic – drive people to visit your store
Traffic – drive users to visit any link you include in your ad
Choose your objective depending on what action you want from your users to take when they see your video ad.
After choosing your objective, give your campaign an easily identifiable name—with the objective, intended audience, and date—to ensure your reporting is precise.
Select Your Audience
Who is your video ad targeted towards? Have you made an educational ad aimed at parents? Or is your ad more product-based to encourage your target demographic to visit your site and make a purchase?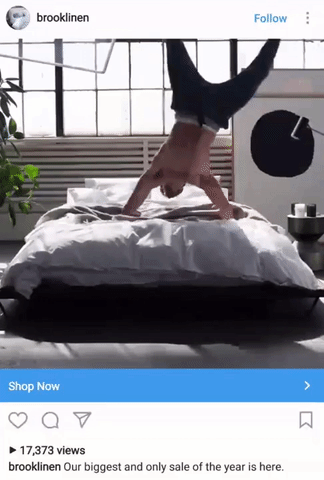 On Facebook Ad Manager and on Instagram, you can include a large amount of detail when deciding on your audience. Analyze your most engaged followers on Instagram first to determine who you should, and shouldn't be, targeting, and then input the necessary data.
Depending on your chosen objective, you may also want to broaden or narrow your audience.
You can add age, gender, location, whether they have already engaged with your content, website, app, or videos. You can also choose to target people who are following certain pages or groups on Facebook.
Instagram Advertising Options
Unlike promoted posts, sponsored posts, and paid partnerships, which are limited to Instagram posts that appear on your profile page, Instagram advertising gives you more options to reach your audience.
Because of the integration between Facebook and Instagram, you now have similar advertising options on Instagram as you do on Facebook, which are:
Carousel Ads
Collection Ads
Photo Ads
Instagram Stories Ads
Video Ads
Here is a break down of the different advertising options.
Instagram Carousel Ads
Similar to carousel ads on Facebook, carousel ads on Instagram allow you to choose up to ten photos or videos that users can swipe through.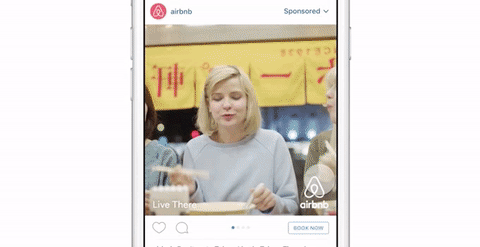 Collection Ads
This is a relatively new ad format for Instagram. These ads allow you to include a variety of photos and videos of your products, along with a call-to-action button, and a clickable link within the ad.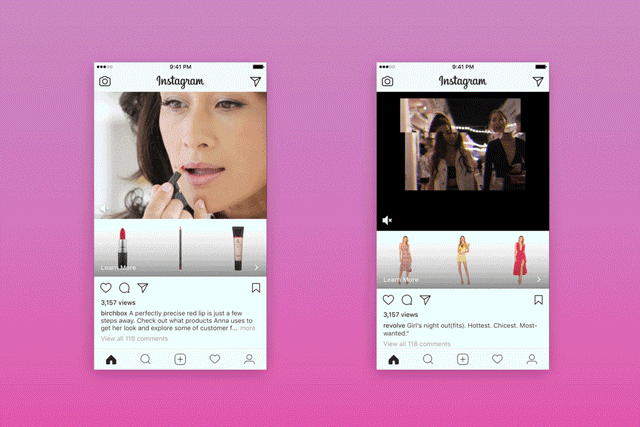 Instagram Photo Ads
Like sponsored posts and paid partnerships, you can create a photo ad with a single image.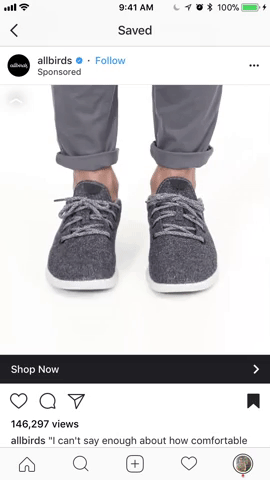 Instagram Story Ads
Instagram Stories appear at the top of your Instagram feed and when you flick through them, you will see Stories from accounts you don't follow. These are Instagram Story Ads and function similarly to Stories—they disappear within 24 hours.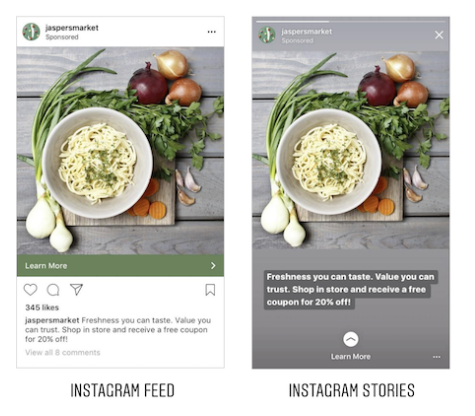 Instagram Video Ads
Similar to photo ads, you can use videos up to 60 seconds long for your video ads.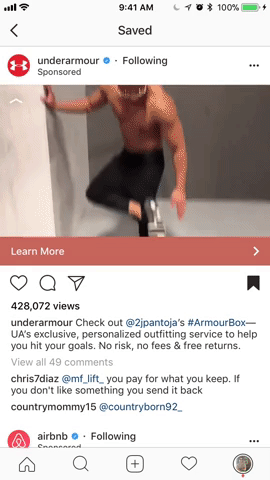 Making Your Instagram Video Ad
After selecting the kind of ad you want to use for your campaign—in this instance, a video ad—you need to write compelling copy. Relying solely on your visuals isn't a good plan—why should people click on your video ad?
Instagram allows you to write copy up to 2200 characters, but you may not need all of that to encourage your users to view your ad. If you don't have much to write, keep your copy short.
But don't err on the side of brevity if it will negatively impact your message. Write as much as you need to.
Ensure that your visuals are the right size. Sprout Social has a thorough guide for Instagram ad sizes that you should refer to.
Your ad should always include a call-to-action—you want anyone interacting with your ad to do something when they see it. Keep your call-to-action near the front of the copy, as much as possible.
The Instagram app also lets you choose from the following calls-to-action:
Learn More
Watch More
Shop Now
Book Now
Sign Up
Contact Us
Remember to include hashtags, particularly your brand hashtag, and other relevant hashtags. Always include your brand logo design—you don't want users to wonder whose ad they have seen!
Facebook and Instagram's Ad Placement Options
Having created your ad, you will be prompted to choose where your ad appears. Facebook Ad Manager gives you the following options:
You can choose to have your ad automatically placed across all these channels, or only on a specified channel.
Choose Your Budget
The average cost-per-click for Instagram ads is between $0.70 and $0.80, but this amount varies according to your target demographic, ad format, ad placement, day of advertising, and season, among many other factors.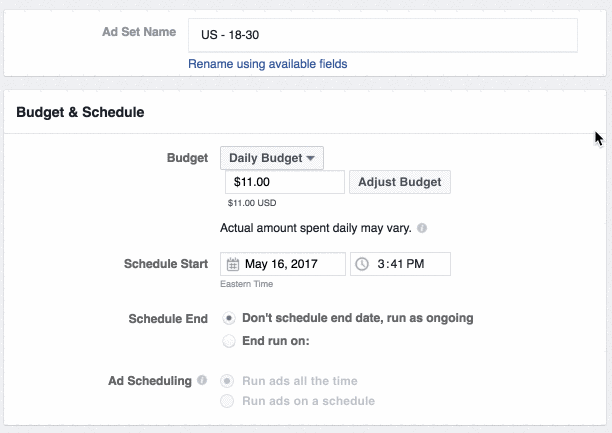 You can set budgets per day or for the duration of a campaign. Keep an eye on the right side of Facebook Ad Manager which shows the estimated reach for your video ad in real-time.
Generally, your budget will be decided according to how many people you can reach within a period of time, but keep other factors in mind when deciding a budget.
Create Your Instagram Ad
After choosing a budget for your video ad, you are now placed to schedule it. Choose a duration for the ad, your call-to-action, and add the link you want people to click when they see your ad.
You can choose to split your ad so you can test the first run's effectiveness. This will help you judge what is and isn't working and what you can change for better results.
Click confirm to activate your Instagram advertising campaign. Your video ad will now be shared across your chosen channels.
Final Thoughts on Instagram Ad Campaigns:
Running an Instagram advertising campaign has become much easier and more economical in recent years. But the most important factor is defining your target audience and choosing a budget that reaches them within a given amount of time.
In this guide, we used video ads as an example, but whatever kind of ad you use, your call-to-action and your ad copy should be precise, to the point, and action-oriented.
With these points in mind, you are ready to create an Instagram advertising campaign that will convert into discernible leads and sales.
What do you think about Instagram ads?
Is your business about to run its first Instagram Ads campaign? We hope the tips that we've provided help guide you to run successful ads. Leave some comments below and tell us what you've done to run a succesful campaigns.