While it's true that still photos are still the most common type of post on Instagram, video has been and continues to gain traction rapidly. Engagement numbers for videos are growing faster than photos, so if your brand is active on Instagram, video is definitely something that should be in your roadmap.
Beyond engagement, video gives you the ability to get much more in-depth and tell the story of your brand. This is especially important for brands that have a complex product or service offering.
Building awareness with video and educating your audience offers potential customers a much more compelling way to learn about your brand and what you have to offer.
For those two reasons alone, it's super important to have a video strategy on Instagram.
So if we can all agree that video should be part of your Instagram marketing plans, let's look at the best practices for creating compelling Instagram videos that drive engagement and convert people into customers.
The First 5 Seconds Are the Most Important
Instagram users quickly scroll through their feeds, so brands need to make video ads that compel users to stop scrolling and watch a video. This means lots of movement, color and text popping on a screen in the first 3-5 seconds of the video.
You have to remember the contextual makeup of the platform. Instagram encourages it's users to behave in an A.D.D. way of sorts.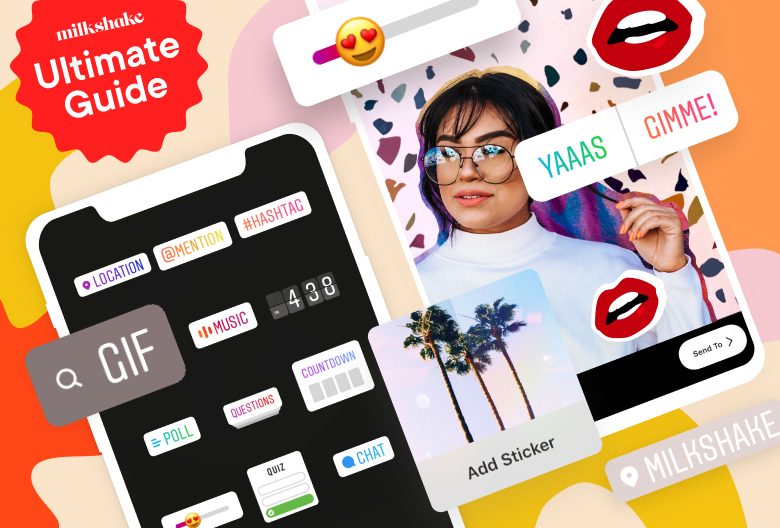 They are quickly scrolling down their feed to see what is going on and the result is you basically have no time to capture their attention. Because of this, it's really important that you skip the slow build-up or the super produced, artsy opening. Get right to the point with bright colors, moving graphics and bold headlines.
Adding Text To Videos is a Major Advantage
Because Instagram audio is muted by default, your videos must lead with visuals and/or text.
Aside from something such as captions, use dynamic, bold text effects to highlight the main points of your video that you wouldn't want the user to miss if they left the video muted.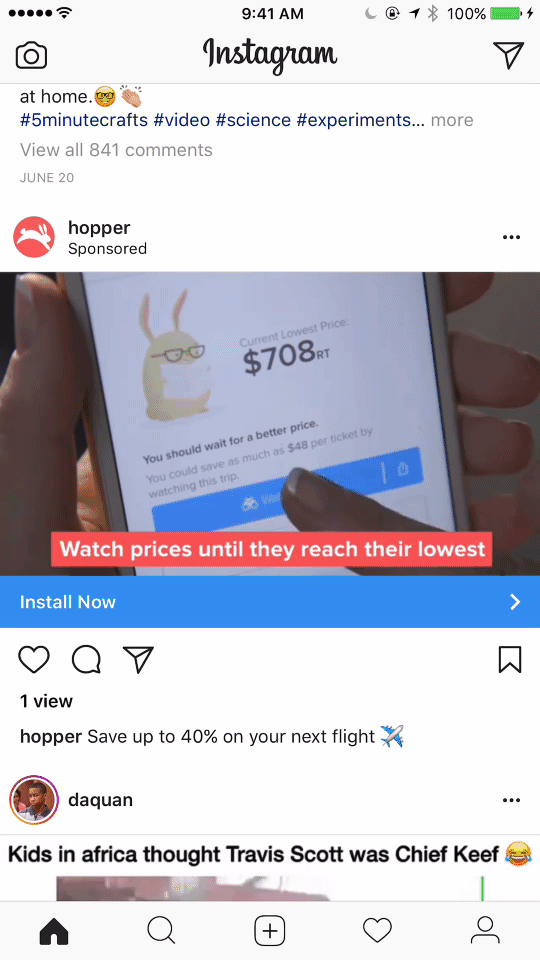 As with anything, the key is everything in moderation though. A bold headline or two and a few captions are plenty to stop a user and get them to watch your video.
Too much of these elements all together at once though will make your video look clunky and confusing to the user and they'll continue scrolling right past.
PRO TIP: One great service to use for video captioning is Rev.
Present a Solution to Customers' Goals and Challenges
It's important that your Instagram video stays in line and on message with the needs of your client personas.
In other words, what goals or challenges do they have and how does your product or service solve that for them?
Videos that acknowledge a potential client's needs create a brand connection. When they are connected with you, they begin to trust you and are most likely to end up doing business with you.
Keep Your Video Focused on a Single Goal
It's important to remember that your video needs to be laser-focused on a single goal. For instance, if you are trying to get someone to click the "buy now" button, or you are trying to get someone to share the video, or even something more general like raising brand awareness.
Focus only on a single goal. Given the facts that your video can't be more than 60 seconds and you don't want to confuse the viewer, this is imperative.
Instagram Videos Have Specific Dimensions. Use Them
In Instagram, in-feed videos cannot be enlarged to take up the whole phone screen. On Stories though, the video will fill the entire screen, however, you need to film the video vertically to fit correctly.
A general rule of thumb here is to take advantage of every pixel of space Instagram gives you to display your video.
It's All About the Thumbnail
Unlike Facebook or Youtube, when you post a video on Instagram, you cannot upload a thumbnail image.
Instead, you must choose a frame from the video itself. As a result, this needs to be something that you are keeping in mind as you are preparing to shoot your video.
The thumbnail is the most important part of your video because that is what is going to be the key factor to whether or not someone stops, turns on the volume and watches your ad.
Because of this, you must incorporate the thumbnail you want into your video when you shoot it.
Make Sure Your Landing Page is Optimized for Mobile
You have to keep in mind that the lion share percentage of users on the Instagram platform are looking at Instagram on their mobile devices. This is a very important point.
If the call to action on a video ad leads to a landing page, you have to make sure that page is optimized for mobile.
Did you know that "Link-In-Bios" are one of the more common  CTAs for Instagram? Our friends at Milkshake create mobile-friendly Instagram pages for businesses of all sizes. Here's a guest post that they did for us that discusses some more:
If a user clicks on a "learn more" button for instance and are taken to a landing page that is not mobile optimized, they are going to get frustrated and most likely leave without giving you their information.
They leave because things suddenly got difficult for them. You cannot do this if you want to be successful in your campaigns.
Add a Clear Call to Action
Because links on Instagram are confined to being in a user bio, you have to have a clear call to action in your video.
Whenever possible, put your complete call to action inside your video. This will give them a clear idea of what they will get if they click on a "learn more" button for instance.
Again, you cannot make things difficult for users. If the call to action is "click the link in my bio to learn more", they are not going to convert. You need to clearly state your CTA and keep them moving effortlessly down the path to your mobile-optimized landing page.
A/B Test Different Video Ads to Find What Sticks
As with all other forms of ads you are running, you should create multiple versions of your Instagram video ads and A/B test them to see which work best with their audiences.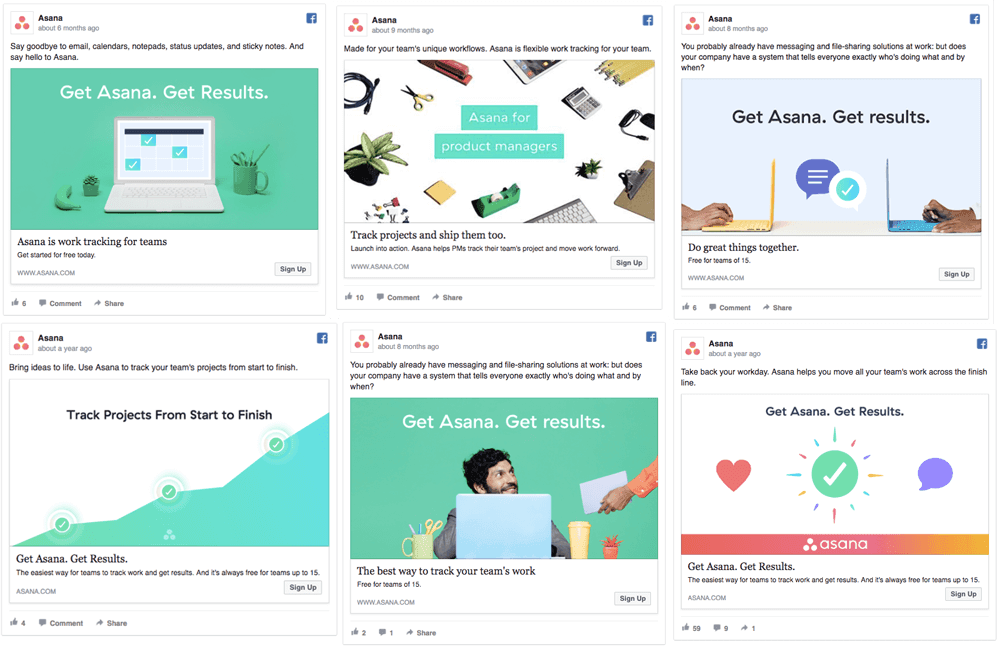 Look at the engagement and track user conversions to determine which types of video resonates the most and which messaging is the best.
Loopable Videos Increase Conversion
Because Instagram videos are short and because they start with the volume on mute by default, if you can create a loopable video, odds are you are going to keep a user on your video for a longer amount of time.
They stay on because they want to see what they may have missed in the beginning before they unmuted the video.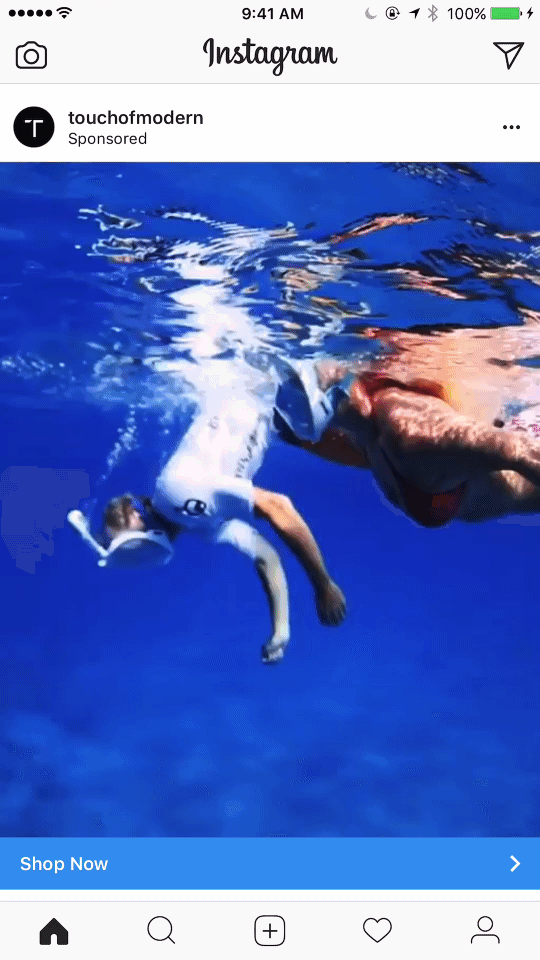 This is great because the longer a user is on the video, the more your brand will make an impression with them and the more likely they are to do business with you.
What Are Your Thoughts?
Have you been using Instagram to add new users or customers for your business?  If so, what strategies have you been implementing to get more followers and customers? Let us know in the comments below.