Video marketing has been improving over the past few years and video advertising is now becoming the go-to tool for digital marketers to make an impact on their audience.
And videos are a worthwhile investment, it would seem, according to these video marketing statistics that prove the efficacy of using video advertising in your content marketing.
But making a video ad isn't something you should rush into. There are certain steps you have to take, and ones you must avoid, if you want to make a great video ad.
Your video ad should be no longer than 30 seconds—ideally between 10 and 20 seconds.
Click To Tweet
Once you understand these do's and don'ts of video advertising, you can use a proposal template to create a video marketing plan for your managers and create a more powerful and lucrative video advertising campaign.
The Do's of Video Advertising
When implementing a video advertising campaign, there are certain aspects that you must pay particular attention to.
Here we look at the top do's of video advertising that all marketers must follow.
Learn About Video Advertising Options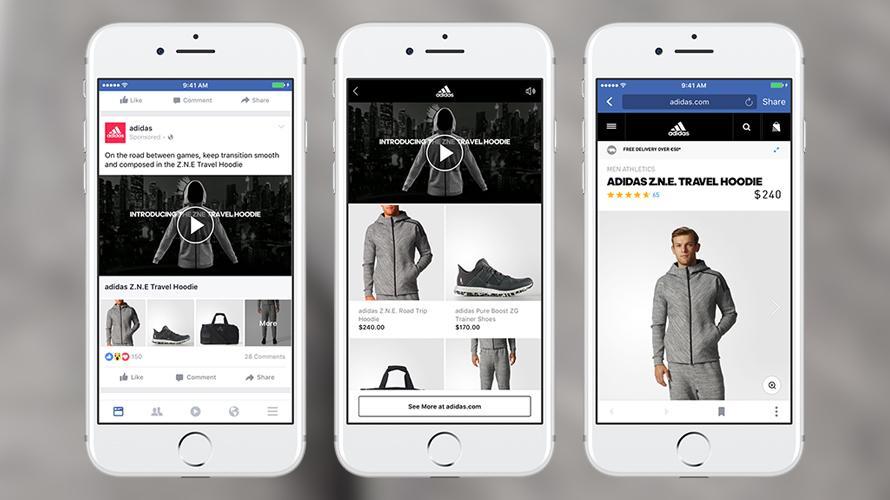 There are a number of different video advertising formats that you can adopt for your campaign. Each format has its own pros and cons, and will lead to success if used correctly.
The kind of format you use is particularly of note in the social sphere—in Facebook advertising, there are several ways to make video ads:
Carousel video ads
Collection video ads
Marketplace ads
Messenger video ads
Mid-stream video ads
Suggested video ads
The same goes for Instagram video advertising, which has many of the same video ad options to choose from.
For a marketer creating an advertising campaign, the number of options may be confusing but they each have their own purpose.
Carousel video ads are useful for promoting multiple products, whereas ads that appear on the social feed are more seamless, and unobtrusive.
Most people skip ads after barely looking at it for 2-5 seconds
Click To Tweet
When you create your video marketing strategy, take the time to align your goals with the content you are creating—this will give you a better understanding of which format to use.
Get to the Point Quickly
Nobody wants a long-winded explanation of your brand, your product, the benefits it will bring the user—people have short attention spans and limited patience.
If you want your video advertising campaign to get you the results you need, your video needs to get to the point as quickly as possible.
You cannot treat your video ad as if you are writing a paper—in text-based content, you can build up to your point, and you often have more room to explore the subject.
But videos don't afford you that luxury—they are too easy to scroll past so your content needs to be bold and poignant from the get-go.
Additionally, most people skip ads after barely looking at it for 2-5 seconds—that is an extremely short amount of time to get people's attention.
Get to the crux of your story or message in the opening frame, if possible, and you will see your conversion rate optimization become a success.
Use a Great Thumbnail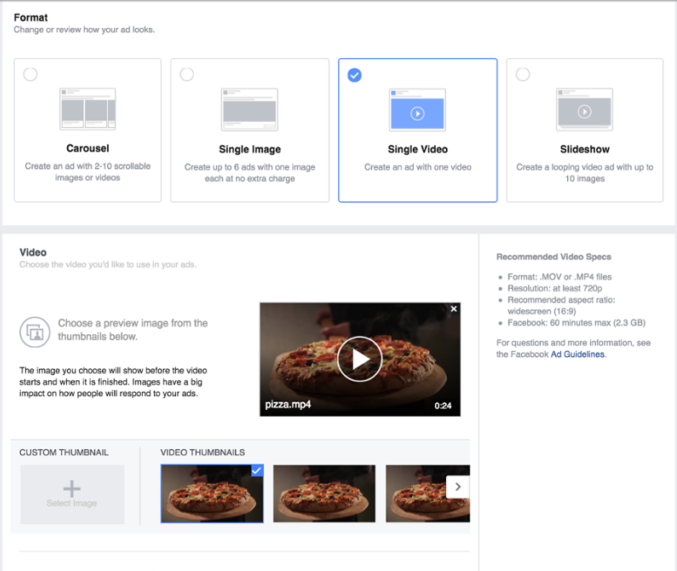 Creating a video ad is time-consuming and expensive, but as we have said, you have very little time to use it to capture people's attention.
What is the point of going through all the effort of making a good video, if you don't optimize your thumbnail?
This is particularly important on YouTube, where the thumbnail of your video ad is often the first thing users will see before scrolling down.
Build Relationships With Prospects And Customers Using Personalized Marketing
Thumbnails are also necessary to attract viewers who have deactivated the auto-play option on Facebook.
But thumbnails are also essential across other platforms where your video ad is listed among the suggested videos to watch.
Your thumbnail needs to be strong, relevant, and not contain too much text, or very large text. Not only will text obscure the image, but Facebook may not even run the ad.
Give your thumbnail plenty of consideration—it may be the difference between your ad being seen or ignored.
Use Your Brand Throughout The Video
Branding is crucial in advertising, and in all content. The last thing you want to do is spend the time and money creating great content only for viewers to forget which brand it belonged to.
Mention your brand as soon as possible, and include other branding elements—such as brand fonts and colors—that will make your ad visually recognizable as your brand.
Create Subtitles for Your Videos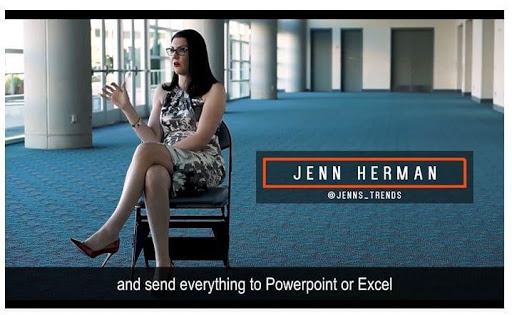 In Facebook marketing, videos have some of the best ROI, but that's possible not only because of great storytelling and excellent visuals, but because of the use of subtitles.
Most people check their social feeds, and even YouTube, on their mobile phones, and they don't often have their headphones on.
Which means that your video advertising, no matter how attractive it is, cannot afford to rely on sound to convey its message.
[Infographic] 22 Personalized Video Marketing Stats to Know for 2020
You must use subtitles in your video ad so people can watch the ad even if they can't put the sound on.
Using subtitles also makes your video advertising more accessible to the hearing impaired community, which opens up your campaign to a whole new audience.
Don'ts of Video Advertising
If your video marketing tactics are well planned, you will avoid making some common mistakes. Here are the major don'ts of video advertising you need to be aware of.
Do Not Be Irrelevant
It should seem quite obvious to anyone making a video ad but this point still bears repeating—your video ad needs to be relevant.
Who does it need to be relevant for? For you audience, and for your brand.
Relevancy is tied into your targeted marketing—your video ad may be more relevant to some audiences, rather than others, and you need to tailor the ad accordingly, if you want to make the desired impact.
Here's how to create content your audience cares about:
Additionally, if your video ad is being shown mid-content or in-stream, it should be relevant to the content of that ad.
This will make the viewing experience more seamless and your ad more memorable.
Do Not Make Long Videos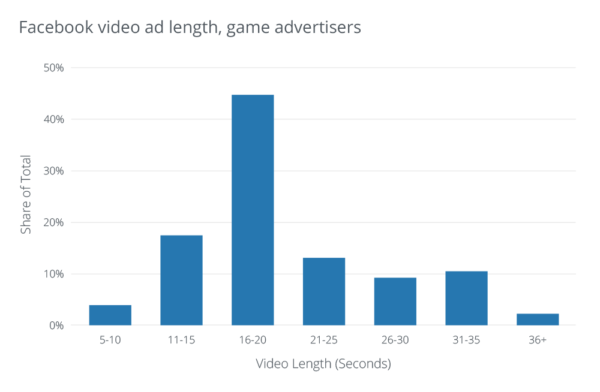 There is a lot that you will want to include in your video ads—especially if you are creating explainer videos—but you must avoid the temptation to create long videos.
These will not bring you the ROI you need from an ad campaign because people are unlikely to watch them past the first few seconds.
Your video ad should be no longer than 30 seconds—ideally between 10 and 20 seconds.
Click To Tweet
Even if you have created a gripping video ad, when a user sees how much time is still left in the ad, they will stop watching and scroll past.
Your video ad should be no longer than 30 seconds—ideally between 10 and 20 seconds.
That isn't much time to share a message, but if you can break down your story into one strong core message, you can make an effective, yet short, video ad.
Do Not Forget About Titles and Descriptions
In the video content creation process, marketers often forget about a small but significant facet of video marketing—optimizing the ad title and description.
These are massively important on social platforms, including Facebook and YouTube.
For one, the video ad title and description are great for SEO. Always add relevant keywords in your video ad titles and descriptions, and don't keep them too long.
Titles and descriptions are also scanned by social media algorithms, which will help them place ads in the feeds of relevant viewers.
Additionally, the titles and descriptions can also capture viewers' imaginations—if well-written, they could make the difference between a viewer stopping to watch or scrolling past.
Do Not Ignore Video Sizes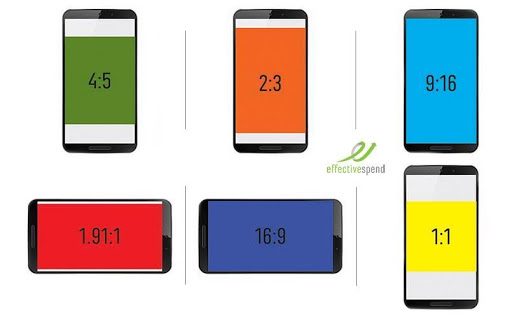 When it comes to video advertising, one size definitely does not fit all—for instance, videos can be vertical or horizontal, square or rectangular, depending on how and where you are incorporating them.
Facebook and Instagram Story ads have to be vertical to be seen, whereas video ads made for a social feed should be horizontal.
One needs to keep in mind the viewing experience of the user when creating a video ad to get the most bang for your buck.
Do Not Keep Your CTA to the End
A great call-to-action is necessary in video advertising but where you place it also matters.
With such limited time to get a viewer's attention, it may seem prudent to add the CTA in the opening shot. But that strategy doesn't work if you want people to watch more of your video.
Keeping the CTA at the end is a massive risk—what if viewers don't see the video the whole way through? The end goal of your video ad would be lost.
When making your video ad, don't leave the CTA to the end, or use it up in the beginning. Instead, include the CTA in the middle of your ad—this way, you will get the best of both worlds.
How Are You Using Video Advertising?
Video advertising is a great way to reach your audience and create a bond between your brand and the viewer.
But there are some do's and don'ts that need to be acknowledged before you begin creating videos for your advertising campaign.
The above list of do's and don'ts are the most vital to creating a strong video ad campaign that will make your brand stand out from the crowd and will see improved ROIs over time.